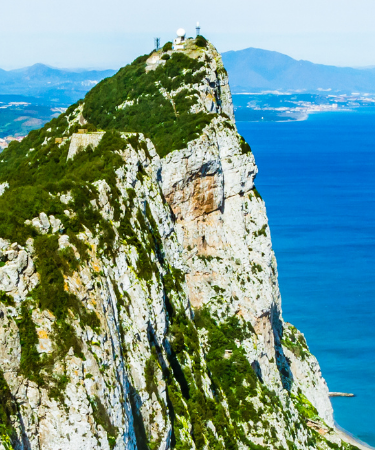 Gibraltar is a British Overseas Territory. It is a peninsular having a land frontier with Spain and is situated at the south-western tip of Europe, guarding the entrance to the Mediterranean Sea from the Atlantic Ocean, with Morocco situated 14 miles away across the Straits of Gibraltar. Its vital importance as a strategic military site has been paramount in its history from early times. In the ancient world the 'Rock of Gibraltar', which rises to approximately 1,300 ft, was one of the Pillars of Hercules, demarking the limits of the 'known world' and famous for being the meeting place of continents. This location has given Gibraltar a history and an influence on world events out of proportion to its size and population.
Being 6.8 square kilometres in size and having a population of approximately 32,000 people, Gibraltar enjoys a very close constitutional, legal and cultural relationship with the United Kingdom, fusing British character, infrastructure and laws with the appeal of Mediterranean climate and lifestyle choices.
Gibraltar boasts a solid and flourishing economy having tourism, maritime services, financial services and e-gaming as its principal sectors and, with ongoing economic growth at a rate of approx. 7% per annum. The International Monetary Fund (IMF) puts Gibraltar fourth in the world in terms of GDP per capita, indicating a prosperous nation with strong economic prospects. Gibraltar has its own International Airport with numerous daily direct flights to and from the UK (covering destinations such as London, Manchester and Birmingham). The proximity to Spanish regional airports at Malaga, Jerez and Seville broaden Gibraltar's accessibility to other European cities and international trade centres. Gibraltar also operates the third busiest bunkering port in Europe, as well as having a state of the art cruise terminal and, facilities that host super yachts and luxury pleasure boats, providing the gamut of regulated and professional marine services.
Gibraltar is acknowledged as one of the most highly and efficiently regulated financial centres and internationally tax compliant jurisdictions, with a strong focus on maintaining the reputation and integrity of the jurisdiction. Given its size, speed to market and easy accessibility to key decision-makers in the jurisdiction are very favourable factors for international businesses that wish to establish a presence in Gibraltar.
Gibraltar's infrastructure is of high quality and good repute. Its sophisticated and mature services infrastructure makes it possible to passport throughout Europe an EU licence in financial services such as insurance and re-insurance, EU-wide pensions, banking and funds administration, amongst others. Given its strategic geographic location, Gibraltar is also one of the 11 landing sites for the Europe India Gateway high bandwidth fiber optic submarine cable, making Gibraltar an international communications hub and providing Gibraltar with a state of the art global IT and communications infrastructure. With the availability of professional electronic services, its quality of regulation and its resilience, the bigger blue-chip companies acknowledge and have made Gibraltar their global e-commerce hub, to the extent that Gibraltar has become a global leader in the virtual gaming industry as well as an attractive jurisdiction for the establishment of e-money businesses, electronic payment processing providers and web hosting providers. With its stable political and economic environment, a harmonious, multicultural English-speaking community, an average of 300 days of sunshine a year and, a sophisticated and modern standard of living steeped in history and heritage, Gibraltar is a charming, vibrant and thriving place in which to live and work.
Not found what you're looking for?
Contact us and we will be able to help.
Contact Us